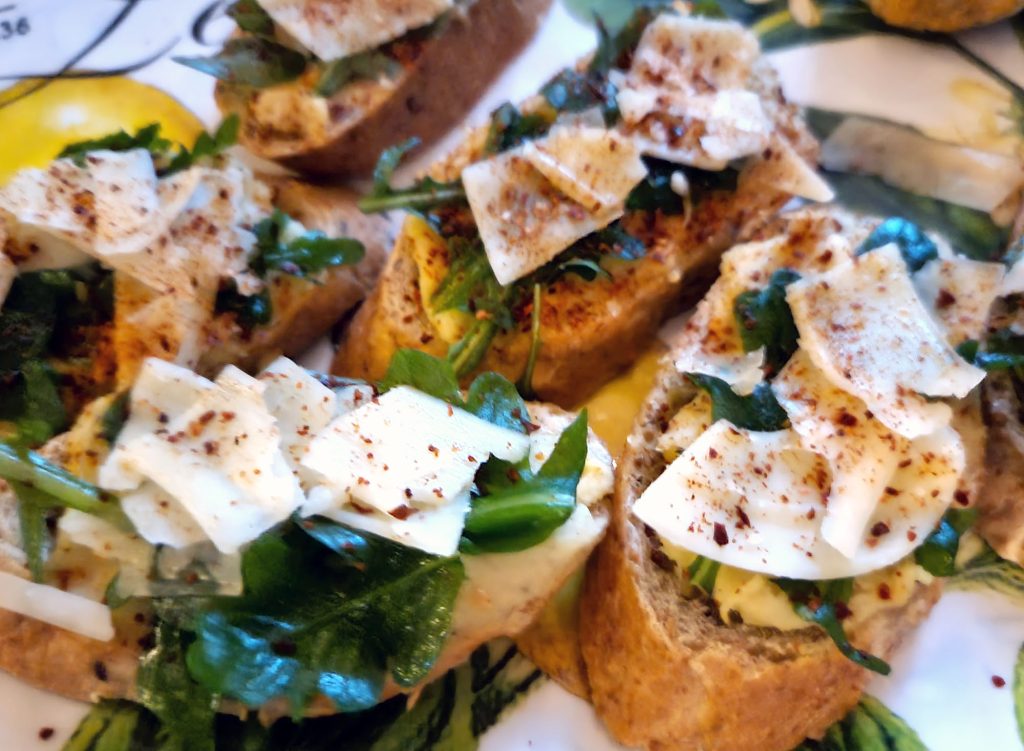 This unique appetizer is absolutely wonderful. It makes use of the underused and somewhat unknown vegetable, parsnips. I started using parsnips in my cookery several years ago. The first time I served this appetizer was several people's first exposure to parsnips. Parsnips have a mild flavor reminiscent of carrots but with a creamy spiciness. I often add them to mashed potatoes, include them in roasted vegetable medleys, and use them in soups. I wanted to feature them in an appetizer and found a recipe on the web that I modified to my taste and simplified. When I tasted the first bruschetta, I knew we had a keeper.
Ingredients
1 long French baguette
2 tablespoons butter
3 – 4 large parsnips
2 tablespoons water
1 garlic clove – chopped
salt and pepper
1 cup baby arugula leaves
1/2 cup parmesan (shaved)
4 tablespoons EVOO
Aleppo pepper (or paprika)
Instructions
Cut the French bread at an angle into 24 x 1/3-inch slices.
Spray with Olive Oil and then sprinkle with white pepper.
Bake at 350° until lightly browned on the edges. About 8 – 10 minutes.
Top and tail the parsnips then peel them and cut them in quarters lengthways. if they have very white woody center, remove this then cut the parsnip into 1/2 inch pieces.
Microwave the parsnips in a little water for 4 minutes, stir and then for another 4 minutes or until soft.
Heat the butter and 1 tablespoon olive oil in a large pan, add the parsnips and the garlic clove. Season generously with salt and pepper. Add in the water and cook over a medium heat for 5 minutes.
Remove the parsnips from the heat and add them to a food processor along with the 3 tablespoons of EVOO. Puree to a smooth spread. Check your seasoning. Allow to cool.
Remove the stems from the arugula and toss with a little olive oil to coat.
Spread the toast with a generous layer of the parsnip spread. Add 3 or 4 arugula leaves.
Then top with shaved Parmesan cheese, and finish with a sprinkle of Aleppo pepper.
Notes
You can substitute Paprika for the Aleppo pepper, they are similar in taste. The Aleppo pepper is more granular and I think provides better visual appeal.

© 2023 Copyright © 2020 by Norwest Communications Inc.