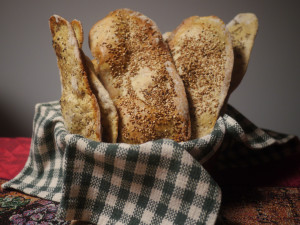 I was looking for something unique to go along with hummus rather than the usual pita bread, so I modified my pizza dough recipe a bit and came up with this flatbread recipe. It's easy to make other than it takes a bunch of cookie sheets, but it is worth the trouble.
I topped my pieces with fresh rosemary, others with toasted sesame seeds, and some with fresh black pepper. You can be innovative here. This recipe contains a significant amount of whole grains without being overly heavy.
Fresh flat bread goes well with hummus and tapenades or you can add various toppings for a full light meal or appetizer.
Ingredients
1 1/2 cups warm water
1 pkg. fast rising dry yeast
1 tsp. sugar
1 cup rolled oats
1/4 cup whole wheat flour
1/4 cup flax seed meal
2 1/2 - 3 cups flour
1 tsp. salt
3 Tbsp. olive oil
1 egg
1 Tbsp. water
fresh rosemary, black peper, sesame seeds or other herbs
Instructions
Put warm water in a bowl and stir in sugar.
Sprinkle yeast on top and let it react for a few minutes.
Stir in oats, flax seed meal and whole wheat flour and let the liquid soak in for 5 minutes or so.
Add salt, two cups of flour and oil and knead with a bread hook on an electric mixer or by hand.
Gradually add in more flour until a soft, but non-sticky ball of dough forms.
Cover and let the dough rise in a warm place for at least 1/2 hour.
Preheat your oven to 400 degrees.
Flatten the dough on your board into a circle about 1 inch thick.
Cut the dough, pizza style, into 16 pieces.
Roll each piece of dough into a ball and roll out on a floured board to a elongated piece a little less than 1/8 inch thick.
Put the pieces on parchment covered cookie sheets.
Whisk together the egg and 1 Tbsp. water.
Brush each piece of dough lightly with the egg mixture and top with either rosemary, black pepper or toasted sesame seeds.
Lightly push the toppings into the dough, and bake for 15-20 minutes till crisp and golden brown.
© 2023 Copyright © 2020 by Norwest Communications Inc.