Kifli – Hungarian Cookies – Vegan Version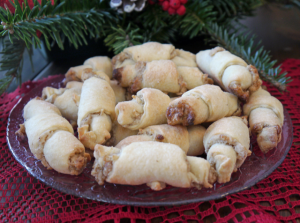 I don't think my mother knew what a Vegan was and I'm sure making Vegan cookies never crossed her mind, although she was very health conscious in her cooking in her later years. But, times change and I have a number of friends who became Vegan this year, some of whom I have gifted at Christmas with nut roll and Kifli. I always like a challenge, so I decided to see if I could make both of these traditional Hungarian recipes in Vegan form. I made a batch of the cookies in Vegan form and my wife said they were better than what I made last year. So I made two batches of Vegan Kifli and two batches of Vegan nut roll. I had my oldest son taste both without telling him about the change and he though I really outdid myself this year. So, I was happy that the recipe worked and worked well.
I won't publish the whole Vegan Kifli recipe here, just the Vegan substitutions and a few other notes. Refer to the original recipe for the technique, because it is the same for Vegan as the normal recipe.
Substitutions:
Use margarine or vegan butter in place of the butter, same amount.
Use almond milk in place of the milk.
To replace the two eggs, mix two tablespoons of ground Chia and Flax seeds (I used Raw Organics "Real Cold Milled Organic Golden Flax Seed & Organic Chia Seed") with 6 Tablespoons of hot water and let it sit for about five minutes until thickened.
The sour cream was a little more complicated. Start with a cup of raw cashews (Trader Joes has these at a good price) and cover with boiling water. Let soak for at least 30 minutes and then drain. Put them in a food processor with 1 Tablespoon of cider vinegar and 1 1/2 teaspoons of lemon juice and 1/8 teaspoon of salt. Blend to form a thick paste and then add water, 1 Tablespoon at a time and blend until the desired consistency is reached. You'll need to add 3 to six Tablespoons.
Technique:
Everything else is the pretty much the same. Remember to keep the dough on the soft side. If it is too dry, it will be hard to roll. The only difference is that these cookies do not brown like the non-vegan recipe. So bake them for 20 minutes and adjust the baking time for your later batches if necessary. When I was baking multiple trays of cookies, I set the oven to convection cooking.