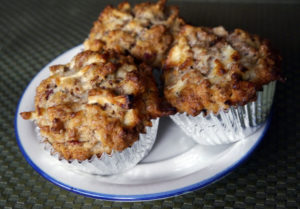 This is one of my favorites for a quick, healthy breakfast. I developed this recipe when the boys were young to try and come up with a muffin that wasn't loaded with sugar, saturated fat and empty calories. It has reduced sugar, no trans-fat and lots of fiber and all the nutrients from apples and nuts.
As with many others, I've updated the recipe with Vegan options and have fun testing out these recipes on my Vegan friends. There are probably other Vegan substitutions, but this is the one I have tested.
Ingredients
1 cup flour
2/3 cup sugar
½ cup canola oil
1 whole egg (1 Tbsp. ground chia and flax seeds & 3 Tbsp. water for Vegan)
¾ cup milk (Almond milk for Vegan)
1 ½ cup Kellogg's All-Bran Original cereal
2 apples – sliced, peeled & chopped. Granny Smith apples are best.
¾ cup walnuts or pecans (chopped)
1 Tbsp. baking powder
Instructions
Mix all ingredients together until well blended.
Spoon into paper baking cups in a muffin tin. You'll need to heap the batter up over the top of the cups.
Bake at 375° until done. (About ½ hour)
Nutrition Facts
Apple Bran Nut Muffins
Serves: 12 Muffins
Amount Per Serving:

1 Muffin

Calories

Calories: 250

% Daily Value*
Total Fat
0
Saturated Fat
0
Trans Fat
Cholesterol
0
Sodium
0
Total Carbohydrate
0
Dietary Fiber
0
Sugars
Protein
| | |
| --- | --- |
| Vitamin A | Vitamin C |
| Calcium | Iron |
* Percent Daily Values are based on a 2,000 calorie diet. Your daily values may be higher or lower depending on your calorie needs.
Notes
This is a very stiff batter that seems to be mostly apples, so you will need to heap it up over the top of the cups. This is OK, it will hold it's shape and just raise up a little bit.

© 2023 Copyright © 2020 by Norwest Communications Inc.