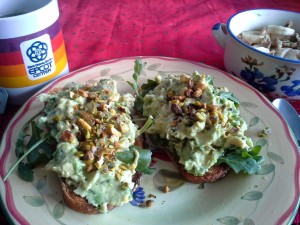 I'm always looking for healthy breakfast alternatives. Most American breakfast foods are laden with fat, sugar and refined carbs, and oatmeal with fruit gets a little old after a while.
Avocado toast is a quick, healthy breakfast that uses fresh ingredients. There are a lot of variations and it's easy to come up with your own. This is one that turned out particularly well and is easy to make. Enjoy!
Ingredients
1 ripe avocado
1 jalapeno pepper (diced fine)
3 Tbsp chopped pistachio nuts
Baby arugula
Lime juice
Garlic powder
Pepper
Salt
Good extra-virgin olive oil
4 pieces good whole-grain bread
Instructions
Chop the jalapeno and add to the avocado and mash with a fork.
Add salt, pepper, garlic powder and fresh-squeezed lime juice to taste.
Toast the bread.
Spray the bread with a bit of olive oil, and top with a layer of baby arugula.
Spread 1/4 of the avocado mixture mixture on each of the toasts and top with the chopped pistachios. Finish with a spritz of olive oil.
© 2023 Copyright © 2020 by Norwest Communications Inc.