Smoked Salmon & Cucumber Appetizer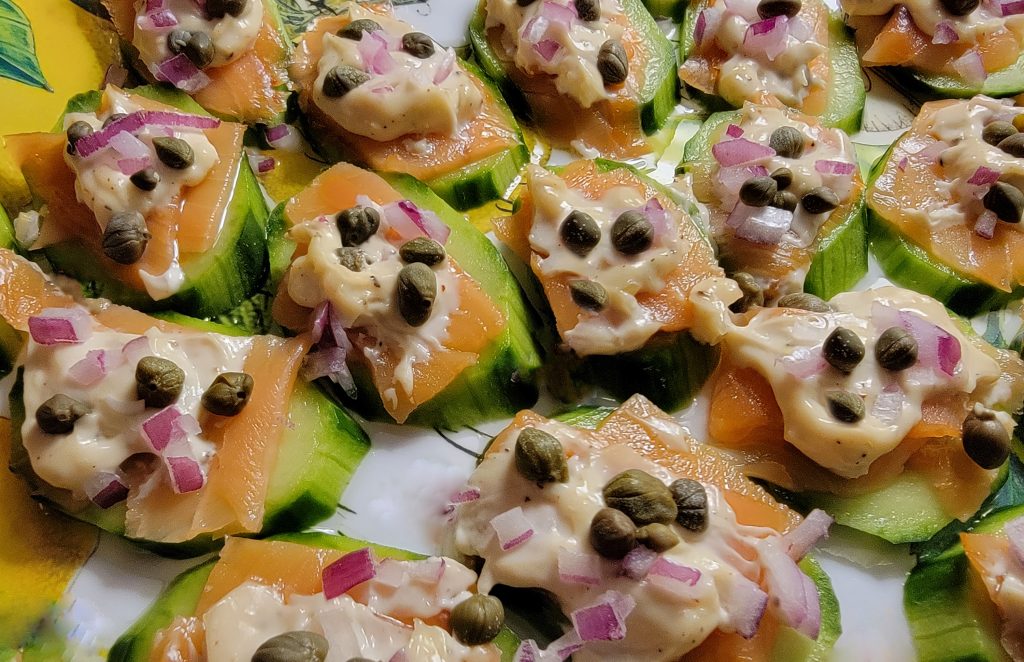 I make a lot of smoked salmon appetizers, especially in the summer, and another go-to for us is Smoked Salmon Spread with fresh slice baguettes. But an occasion came up where I needed an appetizer that was gluten and dairy free. So I eliminated the cream cheese and built a recipe based on my Quick Aioli recipe. Click on the words Quick Aioli in the recipe to get to that recipe. This recipe received many compliments, and thus it earned a place on the website. It's not difficult to make, but the assembly takes a little time.
Ingredients
2 English cucumbers
8 ounces Nova Lox smoked salmon
1/4 red onion diced fine
1/2 bottle non-pareil capers – rinsed
1/2 cup Quick Aioli
Instructions
Prepare the Quick Aioli recipe.
Peel alternate 1/4-inch strips from the cucumber.
Slice the cucumber at an angle into oval 1/4-inch slices.
Slice each piece of salmon into cucumber-sized rectangles.
Place a piece or two of salmon on each slice of cucumber using all of the salmon.
Spread about 1/2 teaspoon of the aioli on each piece of salmon.
Top each piece with a little red onion and a few capers, pressing them into the aioli.
Nutrition Facts
Smoked Salmon & Cucumber Appetizer
Serves: 40
Amount Per Serving:

1 Piece

Calories

30.44 kcal

% Daily Value*
Total Fat

2.53 g

3.1%
Saturated Fat

0.4 g

0%
Trans Fat

0.0 g

Cholesterol

2.43 mg

0.7%
Sodium

183.12 mg

7.6%
Total Carbohydrate

0.89 g

0%
Dietary Fiber

0.26 g

0%
Sugars

0.31 g

Protein

1.27 g
Vitamin A

2.61 µg

Vitamin C

0.71 mg

Calcium

5.39 mg

Iron

0.18 mg
* Percent Daily Values are based on a 2,000 calorie diet. Your daily values may be higher or lower depending on your calorie needs.
Notes
You can use zucchini instead of cucumbers.

© 2023 Copyright © 2020 by Norwest Communications Inc.