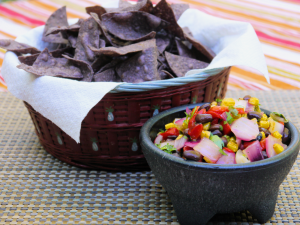 Most appetizer recipes are not all that healthy, usually being laced with cheese and other fats. So, here's a healthy recipe for black bean salsa can be served with corn chips. In the summer I grill the onions and roast the peppers and corn outside on the Weber. The winter recipe is done in the frying pan and is almost as good, but lacks the smokiness added by cooking on the grill. Try this one for a lighter, healthier appetizer recipe.
Black Bean & Corn Salsa
Ingredients
2 Jalapeno Peppers
1 16 oz. can black beans
1 16 oz. bag frozen corn kernels
1 12 oz. jar roasted red sweet peppers
1 Medium red onion - chopped
1/4 C Chopped cilantro
Juice of 2 small limes
2 tsp. Sugar (to taste)
1/2 tsp. Salt (to taste)
2 tsp. Olive oil
Instructions
Heat oil in hot frying pan.
Saute onion with red & Jalapeno peppers for a couple minutes.
Add corn and cook over high heat until corn browns a bit.
Remove from heat and cool.
Add lime juice and cilantro, and then salt and sugar to taste.
Mix together and serve with corn chips.
© 2021 Copyright © 2020 by Norwest Communications Inc.