Grilled Tuna with Aioli, Capers and Grilled Tomatoes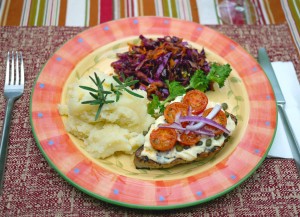 This is a wonderful summer recipe when you want to grill something healthy. It is pictured here accompanied by Horseradish and Rosemary Mashed Potatoes, and Red Cabbage Coleslaw. The Quick Aioli recipe used on the tuna would definitely work on salmon and could dress up some appetizers.  This was my first attempt at grilling tuna and it turned out superb. This recipe is definitely going to move to the top of the rotation!
Ingredients
Tuna steaks for grilling
Capers
Cherry Tomatoes
Red Onion sliced thin
Olive Oil
Salt and pepper
Instructions
Prepare the Quick Aioli
Cut each cherry tomato in half. You'll need for or five halves pr steak.
Pou a little olive oil over the cut tomatoes. I use a Tuscan Flavored oil, but you can add your own Italian spices if you don't have the infused oil.
Make sure your tuna steaks are completely thawed. Rub with olive oil and salt and pepper.
Grill the steaks to your liking.
While the steaks are cooking, cook the tomatoes over high heat in a grill pan. You don't need to cook them a lot,
When the steaks are done, spread about 1/8 inch of aioli over the top.
Sprinkle generously with capers.
Top with four or five tomato halves and garnish with a bit of red onion.
Serve immediately.
© 2023 Copyright © 2020 by Norwest Communications Inc.