Natalie's Crescent Christmas Cookies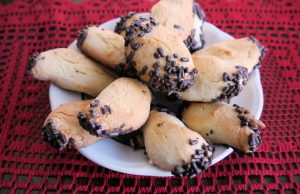 This is a traditional recipe that Natalie got from her mother. They are butter cookies, but unique in that the dough is a yeast dough and they have less sugar than typical butter cookies.
Natalie has been making them since we were first married, and Christmas wouldn't quite be Christmas without them.
Natalie's Crescent Christmas Cookies
Ingredients
1 pound cold butter
1 cup of sugar
1 cake of compressed yeast
2 eggs, separated
4 cups all-purpose flour
Chocolate sprinkles
Total Time
1 hour, 15 minutes
Instructions
In a mixer, cream together the butter and sugar until fluffy.
Separate the eggs and reserve the whites.
Crumble the yeast into the egg yolks and add to the butter/sugar mix.
With the mixer still running, gradually beat in the flour.
Take about a 1 Tbsp. ball of dough and roll between your hands until elongated to about 2 1/2 inches.
Dip about 3/4 in. of the ends of the dough in egg whites and then chocolate sprintkles.
Bend into crescents and place on ungreased cookie sheet.
Bake for 10-12 minutes at 375 degrees.
© 2021 Copyright © 2020 by Norwest Communications Inc.