Natalie's Crescent Christmas Cookies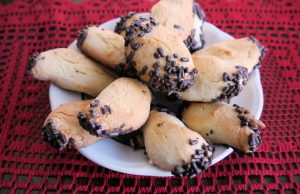 This is a traditional recipe that Natalie got from her mother. They are butter cookies, but unique in that the dough is a yeast dough and they have less sugar than typical butter cookies.
Natalie has been making them since we were first married, and Christmas wouldn't quite be Christmas without them.
Ingredients
1 pound cold butter
1 cup of sugar
1 cake of compressed yeast
2 eggs, separated
4 cups all-purpose flour
Chocolate sprinkles
Instructions
In a mixer, cream together the butter and sugar until fluffy.
Separate the eggs and reserve the whites.
Crumble the yeast into the egg yolks and add to the butter/sugar mix.
With the mixer still running, gradually beat in the flour.
Take about a 1 Tbsp. ball of dough and roll between your hands until elongated to about 2 1/2 inches.
Dip about 3/4 in. of the ends of the dough in egg whites and then chocolate sprintkles.
Bend into crescents and place on ungreased cookie sheet.
Bake for 10-12 minutes at 375 degrees.
Nutrition Facts
Natalie's Crescent Christmas Cookies
Serves: 24
Amount Per Serving:

2

Calories

249.69 kcal

% Daily Value*
Total Fat

15.9 g

23.1%
Saturated Fat

9.86 g

45%
Trans Fat

0.62 g

Cholesterol

53.96 mg

17.7%
Sodium

7.82 mg

0.3%
Total Carbohydrate

24.39 g

8%
Dietary Fiber

0.64 g

0%
Sugars

8.4 g

Protein

2.88 g
Vitamin A

15.0 %

Vitamin C

0.0 %

Calcium

0.98 %

Iron

5.8 %
* Percent Daily Values are based on a 2,000 calorie diet. Your daily values may be higher or lower depending on your calorie needs.
© 2023 Copyright © 2020 by Norwest Communications Inc.